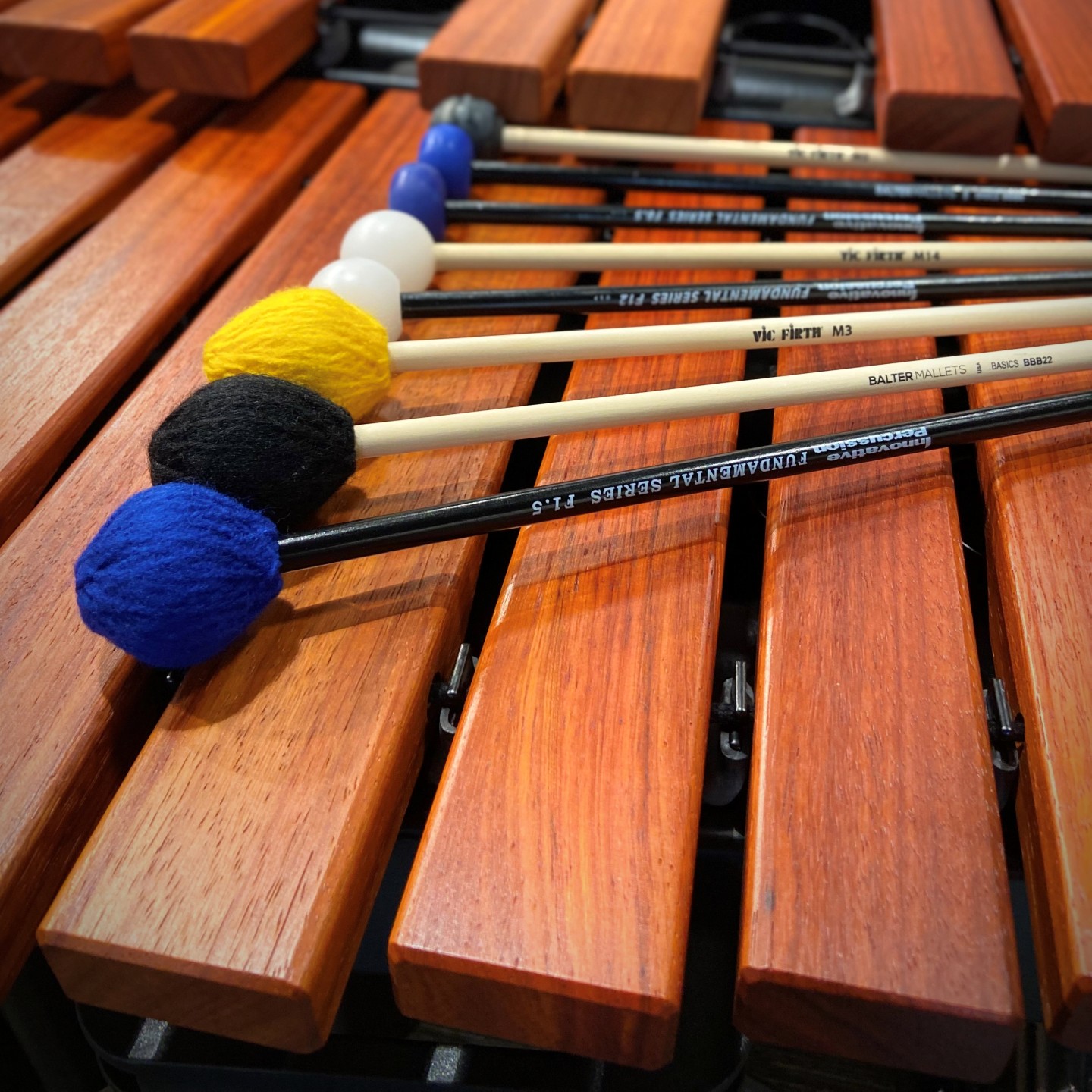 Although many schools already pick what mallets want their beginners to start on for the first year of band, we thought we would take a minute and highlight different options that are great for the beginning percussionist. Whether you are looking to replace a pair of mallets as a parent or wondering what options are out there as a director, this information will help you understand the different mallet options needed as well as comparative models that are available.
Most schools will start by requiring your student to have a synthetic or rubber mallet  that they will primarily use on their student level instrument (bells or xylophone). They will also have a pair of drum sticks required along with a stick bag for easily transporting the sticks and mallets to and from school. Additionally, some schools will also want you to have a yarn mallet for marimba/vibraphone.
Bell/Xylophone Mallets
Mallets for bells and xylophone can be made of various kinds of synthetic or rubber materials and typically have a birch or rattan shaft. We typically recommend birch shaft for beginners as it tends to be more cost effective and feels better for students when playing on starter instruments. Mallets will also have varying degrees of hardness which will affect the tone, volume, and sound of the instrument, so we tend to recommended options that give a medium hardness that is good for use on both the bells and xylophone.
Recommended Synthetic/Rubber Mallets
Vic Firth M14 (synthetic), M5 (rubber)
Innovative Percussion F12 (synthetic), F8.5 (rubber)
Mike Balter BB11 (synthetic), BB8 (rubber)
Saylers Percussion E80 (synthetic), E60 (rubber)
Yarn Marimba/Vibraphone Mallets
Mallets used on the marimba are often made of yarn and have a birch shaft. While often times vibraphone mallets are made of a thinner cord material and a rattan shaft, the yarn mallets you get for the marimba could be used for the first few years of being a percussionist. The great thing about yarn mallets is you can also use them on other instruments such as suspended cymbals. Again we would tend to recommend something with a medium hardness for a beginner, as it can be used in any range of the instrument.
Recommended Yarn Mallets
Vic Firth M3
Innovative Percussion F1.5
Mike Balter BB22
Saylers Percussion
Drum Sticks
Your director will also want you to have a good pair of concert snare drum sticks to use when working on your drumming skills. The stick models below are great for beginners due to their design and weight. They are all slightly different but any choice would be excellent for a beginner and even a professional player.
Recommended Drum Sticks
Vic Firth SD1 General
Innovative Percussion IP-LD Lalo Davila
Innovative Percussion IP-1 General
Innovative Percussion IP-KW Kennan Wylie
Promark SD1 General
While every school and director will have their personal preference for what they would like for you to use, any of the above options would be a great substitute if another particular model is out of stock or may take a while to come in on a backorder. While we try to keep these options in stock at all time, you would still want to check with the director to make sure these substitute options would work for your director. If you ever need any further assistance or need a replacement for a beginner give us a call and we can help you find what you need.
Email: chops@chopspercussion.com
Phone: 317-813-2070