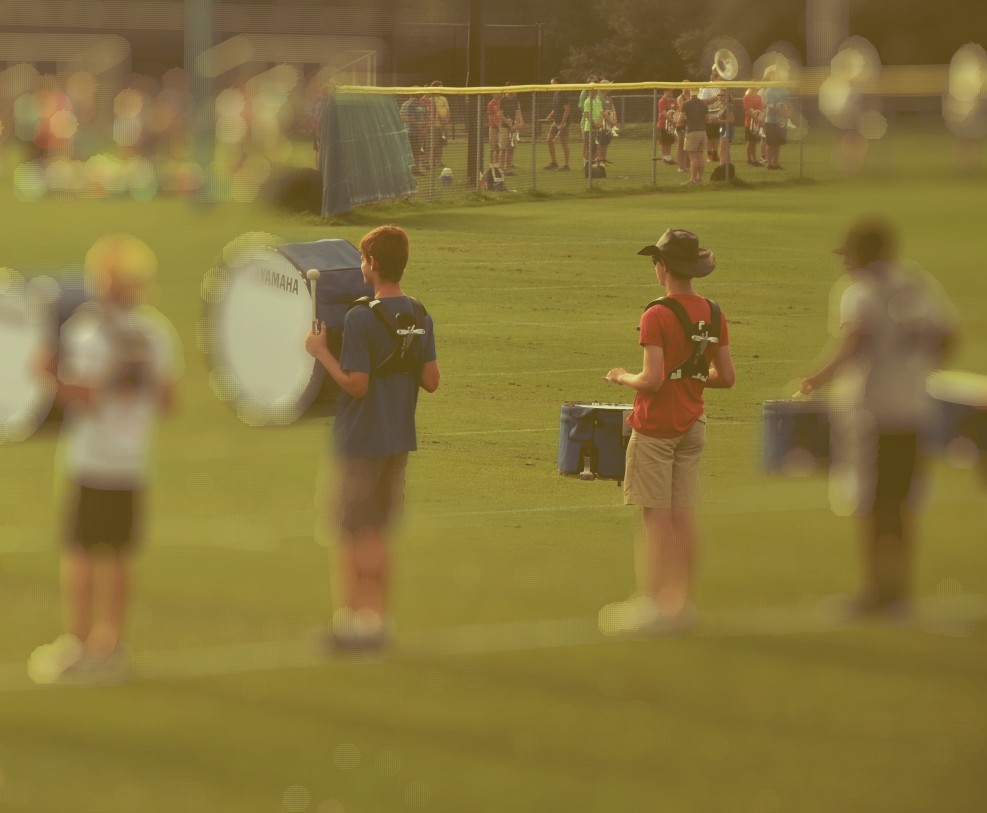 With many groups in the middle of band camp or starting band camps in the coming weeks we thought we would put together our best tips for both students and educators. While this is certainly not an all-inclusive list, these are things to consider that we have learned from our past experiences teaching band camp.
While some of the tips apply to both groups of students, we have split them out to be more specific to each specific group.
Tips for Students
Be sure to hydrate before camp starts

Of all things you can do to prepare for band camp, this is likely the most important.
Remember that going to camp hydrated means being sure to drink lots of water and drinks with electrolytes in the days before camp starts, not just during camp.
Being well hydrated and maintaining hydration during camp, will keep your energy up throughout the camp.
Practice and prepare for what is expected on the first day of camp

Your staff will likely give you materials such as warmups and show music to prepare before camp starts. Be sure to have it prepared (not perfected) before camp starts.
Having things such as warmups memorized, will help you get the most out of your time at band camp.
Do not forget the sunscreen

Bring it to camp and re-apply before every time you are going outside for a rehearsal block.
Have all your materials ready to go, including a fresh pair of sticks and mallets

Have a binder or music folder with all your materials ready to go the first day of camp. And be sure to have extra slots available for any new information you may get throughout camp.
If you know you have worn out sticks, go ahead and get a fresh pair of sticks and stick tape or a good pair of mallets to use during warmups or self-practice time.
Tips for Percussion Directors/Instructors
Set some clearly defined goals and share them with your students

Having a set of clearly definitely goals will help guide you throughout band camp. And sharing with your students will help everyone be on the same goal.

Create time each day for sectionals

Obviously not everyone will have a full staff the entire camp, but it is important to find time each day for break out sectionals.
Band camp is one of the few times of the year, you may truly have time to dig into the details of technique or music with each section. Try to plan for this and it will pay off.
Balance working on technique and learning music

Band camp often gives you extra time to work on technique, but it is important to balance that with learning music. Ideally you want to leave band camp having a solid foundation on your technique packet.
Be sure to work with the band directors so that you are learning the music that is expected throughout band camp. Learning percussion music can take a little longer than a wind player, but it is important to stay of pace with the overall program.
Have materials ready to go for your students

Be sure to have materials printed and ready for you students before camp
Work with your arranger, to make sure they are on pace with music and have a back-up plan if they are very far behind.
Plan some time for maintenance or drumhead changes (if needed)

Taking a little extra time during band camp to go over any of your material needs with make sure you can get it ordered in a timely manner.
Doing an initial drumhead change during band camp is a great idea. It allows the students to play for extended periods of time throughout camp on drumheads that are not overtightened and may not sound good.
Have a clear plan for your electronics team

This is a big one now with so many electronics being used in marching band now. Be sure to include your electronics team/staff in your plans for band camp.
Taking the time during camp to reconfigure set-up, relabel boards, incorporate any new gear will help you greatly in the long run.
Doing some initial scenes in your mixer or mainstage will help to relieve any issues as you get started in the season.
Last Tip for Everyone
Remember that no matter what your goals are as a student or director, the most important thing is to HAVE FUN! For many of your students, band camp is the first impression that will have of the high-school band program. Make sure to have some activities planned throughout your camp days that allow the students to have some FUN with their friends, that do not necessarily deal with music making. You have the whole season to fix small issues with your show and perfect the drill, but you can leave a lasting impression on a student during the week of band camp, so be sure to do something FUN!
If you have any questions or other tips you would like to share, please contact us at 317-813-2070 or chops@chopspercussion.com.