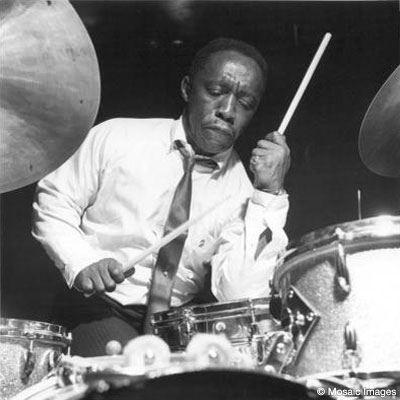 This transcription and video originally appeared at allmandrums.com.
 Here at Chops Percussion we love a good drum solo, so we'd like to share a transcription of a classic!
Art Blakey, longtime leader of The Jazz Messengers, appeared as a sideman on Cannonball Adderley's classic 1958 release Somethin' Else. Best known for an outstanding version of "Autumn Leaves", the album also featured Miles Davis, Hank Jones, and Sam Jones.
"Alison's Uncle", also known as "Bangoon", is the closing track on Somethin' Else. It is a 32 bar AABA form at around 206 BPM. Blakey's solo begins at 3'49" and lasts a single chorus. The solo is a perfect example of Blakey's strengths as a soloist: interesting and well-developed solo composition despite the relative simplicity of his licks.
This video includes audio of the solo, both at full and reduced speeds, synced with the transcription. The transcription is also available as a PDF file here.
After enjoying the solo, be sure to listen to the full track. Notice Blakey's tasty comping behind each soloist.
We hope you enjoy!
---