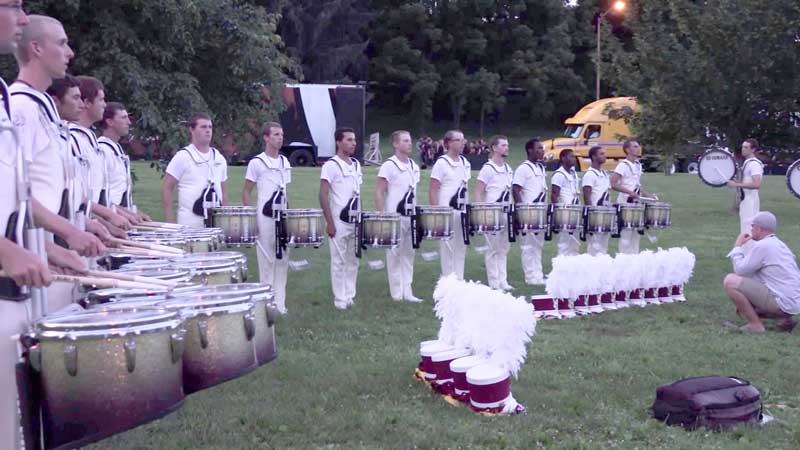 Welcome back to the Chops blog.  We're busy gearing up for the Drum Corps International (DCI) World Championships this week, held right here in Indianapolis!  It takes place all this week, at Lucas Oil Stadium and surrounding areas.  The competition inside Lucas Oil isn't the only thing to see.  There are many events throughout the week, most of which are free and open to the public!
Here's our basic guide to help you take in some of the action.
Monday, August 3:    Open Class Prelims – Ames Field (Michigan City, IN)
Tuesday, August 4:   Open Class Finals – Ames Field (Michigan City, IN)
Thursday, August 6:             World Class Prelims – Lucas Oil Stadium
Friday, August 7:       World Class Semi-finals – Lucas Oil Stadium
Saturday, August 8: World Class Finals – Lucas Oil Stadium
Ticket prices vary by event.  See DCI Tickets for details.
See the DCI day-by-day guide for more information.
Individual & Small Ensemble Competition
Wednesday, August 5, 10am-5pm
Georgia Street
Free!
DrumLine Battle
Saturday, August 8, 11am-3pm
Georgia Street & Pan Am Plaza
Free!
Corps Warm-Up Zone
The show before the show!  Get up close to your favorite drumline or front ensemble as they warm-up and prepare for their performance.
Daily, Thursday-Saturday, depending on the contest schedule
-Military Park (Drumline warm-ups)
-Parking lots around Lucas Oil (Front Ensemble warm-ups)
Free!
Corps Rehearsal Sites
Watch your favorite corps rehearse before they head to Lucas Oil Stadium.
Various schools and other locations around Central Indiana
Free!
We have a list of rehearsal sites for the week, but they are not official.  Please visit the DCI website and consult the individual corps sites for more information and detailed schedules.
Unofficial Rehearsal List (pdf)
DCI Website Rehearsal/HousingList
Come visit us at the Vic Firth booth!
We'll be running the Vic Firth booth, so if you're attending any of the events inside the stadium, make sure to stop by and say hi!  We'll also have special show pricing on Vic Firth sticks, practice pads, stick bags, t-shirts, and many other items.  It would be a great time to try some out all the Vic sticks and pads and take something home!
For more information on events, schedules, venues, ticket sales and more, visit the DCI Website.
If you go, let us know what you think on our Facebook page! If you wear a Chops Percussion shirt, post a pic with one of the drumlines in the background to our Facebook or Twitter page!