Welcome back to the Chops blog!
Chops Percussion is proud to be the presenting sponsor for the Indiana Percussion Association. IPA recently announced their annual clinic day, which will take place at Franklin Community High School on December 12th. This annual event includes the IPA Individual and Ensemble contest, organizational meetings, and performances by clinicians. Check it out the details here and make plans to attend!
Amongst this year's exciting lineup of clinicians is Glenn Kotche, internationally renowned percussionist and composer. As a solo artist and member of Wilco, Kotche is regarded as one of the most creative drummers thanks to his percussion-centric approach to drum set. If you don't attend the IPA clinic for any other reason than to see his presentation, it will be well worth your time.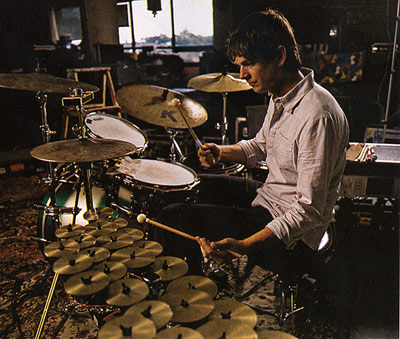 Kotche's creativity has its roots in his education. He began percussion as a student, and continued his studies under Professor Jim Campbell at the University of Kentucky. He also spent a summers in the late eighties as a member of The Cavaliers.
While studying percussion, Kotche also dedicated himself to learning drum set. Rather than approach the drum set like a separate discipline, he found creative ways to enlist the techniques and knowledge he already knew. He discusses this approach in the following video, recorded in Indianapolis at PASIC 2013.
In 2001 Kotche joined Wilco, the critically-acclaimed neo-country, experimental-pop band prior to the release of their album, Yankee Hotel Foxtrot. His influence is immediately apparent throughout the album, with solid, creative drumming and percussion overdubs. The album opens with "I Am Trying To Break Your Heart", a nonsensical love song surrounded by a cacophony of sound.
Wilco has released five albums since then, including the Grammy-winning A Ghost is Born.
Kotche is also a prolific composer, and has written works for groups such as Kronos Quartet, So Percussion, and the Bang on a Can All-Stars. Sonic experimentation, and the drum set as a percussion instrument, are central his works, just like his contributions to Wilco.
Glenn Kotche is an innovative musician and composer. Few have successfully merged percussion, drum set, rock and roll, and art music so seamlessly. When he performs at the IPA clinic on December 12th, you won't want to miss it!
Glenn Kotche recommended listening:
Wilco, Yankee Hotel Foxtrot
Wilco, A Ghost is Born
Wilco, The Whole Love
Glenn Kotche, Mobile
Glenn Kotche, Adventureland
On Fillmore, Extended Vacation
John Luther Fillmore, Ilimaq