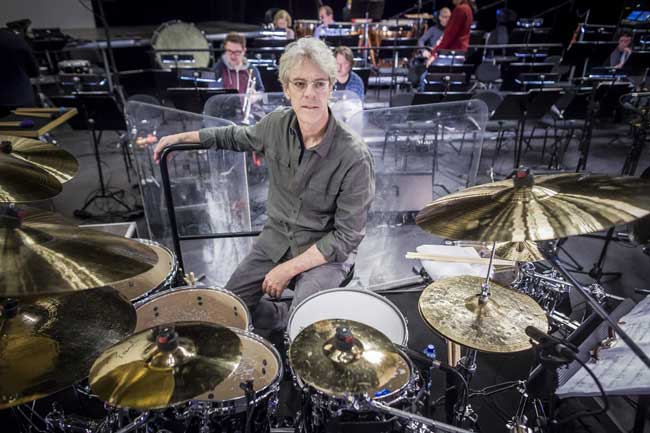 1. Gov't Mule with John Scofield, February 28th, The Egyptian Room at the Murat Theatre.
Drummer: Matt Abts
Gov't Mule will celebrate the 20th anniversary of their eponymous, debut release with guitarist John Scofield on February 28th at The Egyptian Room at the Murat Theatre. Drummer Matt Abts
2. Sarah McLachlan, March 10th, Murat Theatre.
Drummer: Kurt Bisquera
Although often associated with depressing commercials for animal rights organizations, there's much more to McLachlan. The Canadian pop singer and Lilith Fair cofounder will revisit many of her hits when she visits the Murat Theatre on March 10th. She will be backed by veteran session drummer Kurt Bisquera.
3. Farrelly Markiewicz Quartet, March 14th, The Jazz Kitchen.
Drummer: Gene Markiewicz
Our good friend, and Indianapolis Jazz Foundation Hall of Famer, Gene Markiewicz will appear with the Farrelly Markiewicz Quartet at the Jazz Kitchen on March 14th to pay tribute to Michael Brecker.
4. Stewart Copeland, March 27th, Clowes Hall.
The well-known drummer for The Police will visit Indianapolis with pianist Jon Kimura to perform chamber music. Their program will include Copeland's original compositions and Parker's adaptation of Stravinsky's "The Rite of Spring".
5. The Wayne Shorter Quarter, March 21st, The Palladium.
Drummer: Brian Blade
Legendary saxophonist Wayne Shorter will appear in Carmel with his quarter on March 21st. He will be backed by Brian Blade, a versatile jazz drummer who has worked with artists as diverse as Chick Corea, Bob Dylan, Joni Mitchell, Joshua Redman, and Norah Jones.
6. Primus and The Chocolate Factory, April 12th, The Murat Theatre.
Drummer: Tim Alexander
Primus will return to Indianapolis on April 12th to perform their rendition of the soundtrack to "Charlie and The Chocolate Factory" with backing from The Fungi Ensemble. Joining them will be original Primus drummer Tim "Herb" Alexander, who recently survived a heart attack.
7. Billy Cobham, April 17th, The Jazz Kitchen.
Legendary jazz drummer Billy Cobham is remembered as the first drummer of Mahavishnu Orchestra and for his extensive solo career. When he performs at the Jazz Kitchen on April 17th he will celebrate the 40th anniversary of Spectrum, his classic solo album.
8. Herbie Hancock and Chick Corea, April 18th, The Palladium.
When jazz legends Herbie Hancock and Chick Corea visit Carmel on April 18th neither will play drums or percussion, but that's no reason to miss them. Both debuted with Miles Davis in the late 1960s and early 1970s and have remained at the forefront of music ever since.
9. Wilco, May 7th, Murat Theatre.
Drummer: Glenn Kotche
Since joining Wilco before their 2002 release Yankee Hotel Foxtrot, Glenn Kotche has become an integral part of the Chicago based band. Part drummer, part percussionist, Kotche's creativity is unparalleled.
10. Funkadelic, May 14th, The Vogue.
Funkadelic, Rock and Roll Hall of Famer George Clinton's band, will visit Indianapolis to promote their 2014 release First Ya Gotta Shake The Gate. Expect all the psychedelic funkiness you can handle. The show is 21+ only.

About the Author
Glen Allman works part-time at Chops Percussion, mostly on Saturdays. He also builds and restores drums. You can learn more about Allman Drums at www.allmandrums.com.