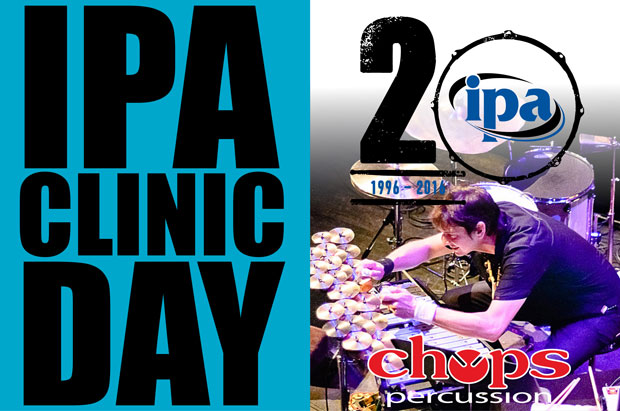 The 2015 IPA Clinic Day will be held this Saturday, December 12th, 2015 alongside the Individual & Ensemble event at Franklin Community HS (map). And once again, IPA is very excited to bring you a multitude of outstanding clinic day activities for this annual event. This year's event will also feature clinicians for instructors, the IPA Individual and Ensemble contest, and the IPA Winter Meeting. All students interested in attending this event will need to register and pay a $15 participation fee in advance (instructors will be admitted free), or walk-ins are welcome for $20 at the door.
Registration begins at 8:30am and the clinics kick-off at 9:00am.
2015 Clinicians Include:
Pablo Rieppi – New York City Ballet Orchestra/NY Philharmonic
BYOS – Entertainment and Performing Arts duo
Glenn Kotche – Drumset player for Wilco
Colin Hill and Brian Blume – BluHill Percussion Duo
Bonnie Whiting – Percussion director of DePauw
Plus… the DePauw University Percussion Ensemble and
the Pendleton Heights High School Percussion Ensemble
Director Clinics:
Josh Torres – How to Build a Percussion Program
Christian Good – Electronics Clinic
---
Go here to register. Online registration ends December 8, 2015!
Clinic Day Flyer (click for full resolution version)