Welcome back to the Chops blogs! Today we're going to begin a brief series on holiday gift ideas. With the holidays rapidly approaching it's time to think about a gift for the percussionist or drummer in your life.
Today we're going to look at some of our favorite accessories that are cheap and practical.
#1 – Sticks and mallets
Believe it or not, a drummer and percussionist can never have too many sticks or mallets!
As we've discussed here many times, every drummer and percussionist will have their own stick and mallet preferences, so ask them before making a purchase. Different brands often use the same or similar model names, so be sure to ask for a specific brand and model. For instance, while every drum stick manufacturer makes a "5A" model stick, your drummer might prefer brand X's model over Y.
If you are purchasing mallets for a percussionist, consider expanding their collection. Consult our guides for the beginner and intermediate percussionist.
Price:
Drum sticks – $5-$20 per pair
Mallets – $10-$50 per pair
#2 – Drum keys
Drum keys are a crucial tool for drummers and percussionists, regardless of their experience or area of specialty. We carry many different models, including standard, ratcheting, and marching keys.
Pictured here are (left to right):
Pearl marching key
Gibraltar drill bit key
Ludwig ratcheting key
Pearl standard key
Price: $2-$20
#3 – Stick or mallet bags
Every drummer and percussionist also needs a bag to carry their sticks and mallets. We carry bags that are small and simple, to bags with many pockets that can carry dozens of mallets.
Pictured here are (left to right):
Chops stick bag (small, for drummers and beginning percussionists)
Innovative Percussion mallet bag
Vic Firth stick bag and backpack combo (stick bag attaches to the backpack)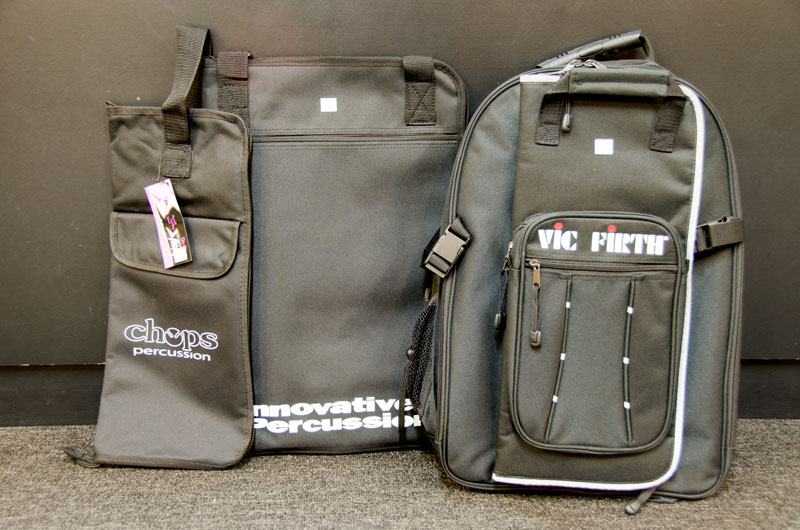 Price: $10-$80
#4 – Drum heads
Just like drum sticks or mallets, every drummer and percussionist will appreciate new drum heads. Even the best, most durable head will eventually wear out and need replaced.
Unfamiliar with drum heads? Here are couple terms you should know:
Batter – top head, struck by the stick or mallet
Resonant – bottom head, not struck by the stick or mallet
Size – the diameter of the head, measured in inches (14").
Like we discussed with drum sticks and mallets, be sure to know the specific brand, model, and size of drum head. If you are unsure of the size of the drum, measure it with a tape measure, or bring it with you to the store.
Price: $15-50 per head
Giving a gift to a drummer or percussionist doesn't have to be expensive! Drum sticks, mallets, drum keys, bags, and heads are important, but inexpensive items that every drummer and percussionist will appreciate. Please contact us to purchase any of these items or help finding another gift!