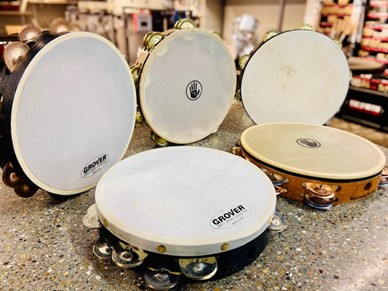 With concert festivals and evaluations coming up in the coming weeks and months you may be missing the exact sound that you want from your concert tambourine. We thought we would do a deep dive this week on what makes different tambourines unique and give you some recommendations based on our past experiences. 
There are many factors to consider when choosing a concert tambourine and they are not always one-size fits all depending on the style of music, type of ensemble, and number of performers. Important things to consider would be shell material, type of jingles, type of head and number of jingles. Let us look deeper into each of these factors below. 
Shell Material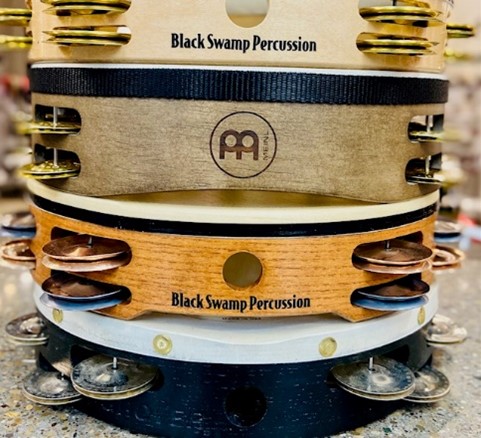 Most concert tambourines will be 10" in diameter and are usually made of wood. While there are varying types of wood such as ash, mahogany, or cherry wood they are all great options for the lightweight they provide for the musician. There are also options available in ABS or plastic materials, but they tend to be heavier than the wood shells. The shell does not have much effect on the sound of the tambourine, but it can play an important role in the durability and use of the tambourine. 
Type of Jingles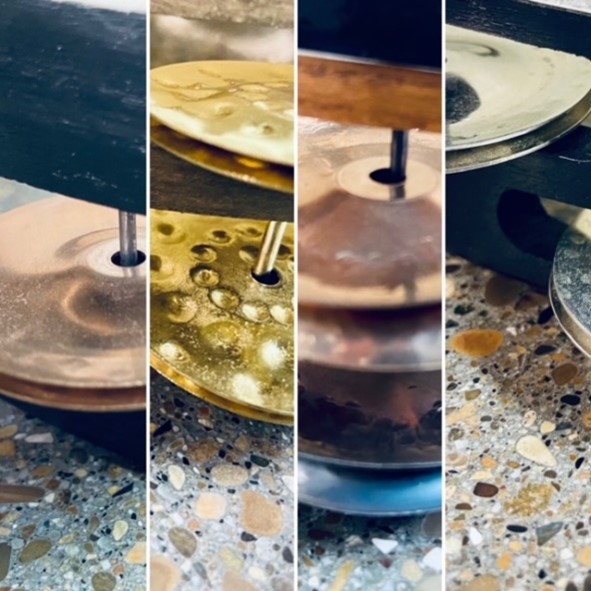 There are many different types of tambourine jingles that are used in modern day concert tambourines and they each have a unique quality of sound. While there may be some variations and combinations of these different jingles the below options are the most popular options today. 
Steel/Aluminum/Brass

– While these jingles certainly have their own characteristics, we are grouping them here as they tend to be used or budget tambourines. Brass jingles can provide an excellent option if you are looking for a full bodied, warm sound. These can be a great option if looking for a more aged sound on a specific style of piece.

 

Beryllium Copper

– The beryllium copper jingles have a mid-dark pitch profile that are articulate but with a subtle sustain. 

 

Phosphor Bronze

– Phosphor Bronze jingles give the darkest sounds available in tambourine jingles. They also tend to have wet sound that works well with music from the Romantic era.

 

German Silver

– These jingles tend to be very sensitive and have a wet sound. These jingles often have a higher pitch as well. German Silver jingles provide a very open and full sound.

 

Chromium 25

– These jingles are made specifically for Black Swamp tambourines and offer a very bright and articulate/dry sound. 

 
Another thing to note about concert tambourines is most manufactures such as Pearl, Grover and Black Swamp have various models that will combine two types of jingles to give unique sound profiles and gives the performers a wider range of use. 
Skin Head vs. Synthetic
The traditional way of making a tambourine would be with either calfskin or goatskin heads that are glued to the shell. While these also give the most "authentic" sound, they are susceptible to weather changes so the performance use should be considered when purchasing a tambourine with a skin head.  
In recent years, the emergence of synthetic heads has become popular on higher end concert tambourines as well. As more people use these in various performance venues both indoor and outdoors, the synthetic heads offer a great option for a great quality sound with added durability. 
One final note, it is a fairly simple process to replace a calfskin or goatskin head, so keep that in mind when choosing which option is best for you. 
Number of Jingles (Rows) 
While most tambourines come with two rows of jingles there may be instances where you only want a single row jingle. There are some great options from Grover Percussion and Meinl Percussion that can give you the lighter and more open sound that a single row of jingles would produce. 
Popular Models and Recommendations 
In the concert tambourine world, the three most popular brands currently are Grover, Black Swamp and Pearl. They all offer similar type of tambourines, but we give you some of our favorites below!! (Click Links for more details and pricing)
Budget Friendly Options 
Meinl Artisan Mixed Jingle Tambourine (AE-MTAH2B)
Black Swamp Overture Tambourine (TDOV)
General Purpose Options 
Black Swamp Chromium/Bronze Tambourine (TC1 or TC1S)
Grover Projection Plus Silver/Bronze Tambourine (T2/GSPh)
Pearl Percussion Silver/Copper Tambourine (PET1018GC) 
Bright Sound Options 
Black Swamp Chromium 25 Tambourine (TD1 or TD1S)
Grover Projection Plus German Silver Tambourine (T2/GS)
Pearl Percussion German Silver Tambourine (PET1018GS) 
Darker Sound Options 
Black Swamp Beryllium Cooper Tambourine (TD4 or TD4S)
Grover Projection Plus Phosphor Bronze Tambourine (T2/PhBr)
Pearl Percussion Copper/Bronze Tambourine (PET1018CB)
There are many other great options that you could consider for concert tambourines and if you have more specific questions or need help find the correct sound, contact us and we can make more recommendations based on the pieces you are playing!