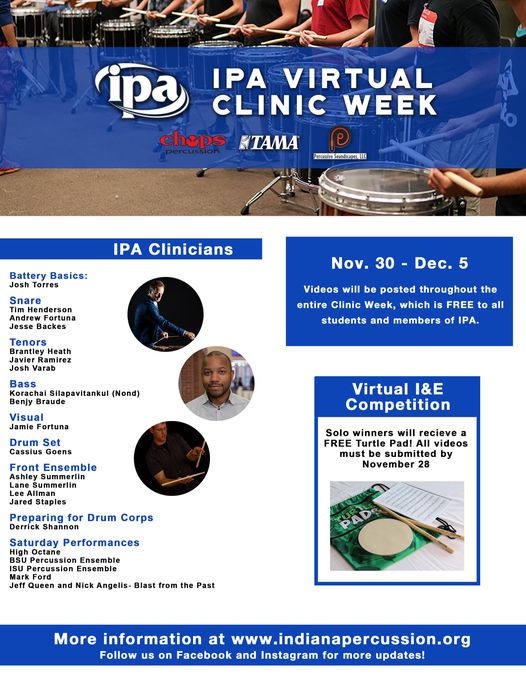 WHAT: 2020 Indiana Percussion Association Clinic Week
WHEN: Monday: November 30th, 2020 thru Saturday: December 5th, 2020
WHERE: IPA You Tube: https://www.youtube.com/channel/UCJIuk3ChZTcTdQqyZLdujew
With many great clinics lined up throughout the week, this is FREE week long clinic being put on by the Indiana Percussion Association in support of the many students and directors for the upcoming 2021 indoor percussion season. A great opportunity to keep your students engaged and learn from some of the best people in the activity. The week-long clinic will culminate with performances by High Octane, Ball State University Percussion Ensemble, Indiana State University Percussion Ensemble, Mark Ford, and Jeff Queen and Nick Angelis with Blast from the Past!
In addition to the great clinic opportunities, they will be giving away a free lesson with Dr. Jimmy Finnie, percussion professor at Indiana State University. This is open to an student in IPA, great for college prep, individual/ensemble feedback. Spots are limited so sign up soon at this link: http://www.tinyurl.com/IPAfreelesson
Keep an eye on all the Indiana Percussion Association social media posts throughout the coming weeks for updates. This free clinic is one of a kind opportunity that you don't want to miss.
Follow the Indiana Percussion Association at the following links:
Facebook: https://www.facebook.com/IndianaPercussionAssociation
Instagram: https://www.instagram.com/indiana_percussion/