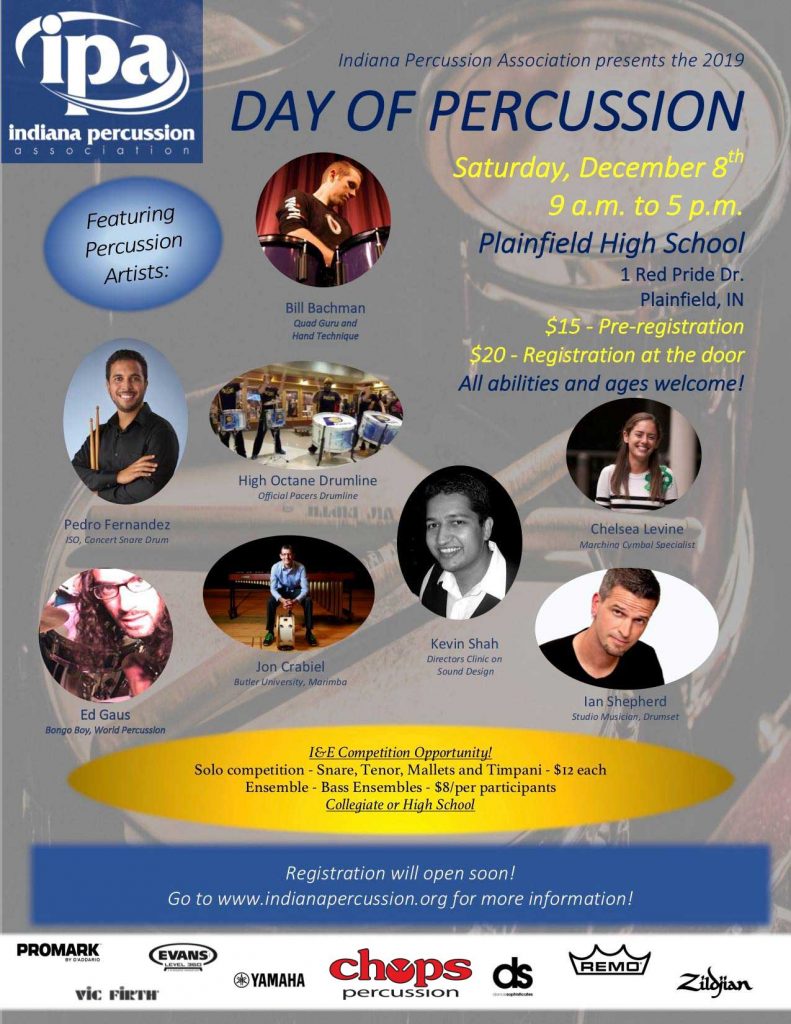 WHAT: 2018 Indiana Percussion Association Clinic Day and I&E Competition
WHEN: Saturday, December 8th, 9am-5pm (on-site registration begins at 8am)
WHERE: Plainfield High School
HOW: On-line registration is NOW OPEN!  On-site registration the day of the clinic will begin at 8am. Cost will be $15/person pre-registration or $20 at the door. Lunch is not included but the Plainfield Band Boosters will have lunch concessions available.
Clinic Day Group Registration: https://tinyurl.com/y9frohml
IPA will be going with a more "hands on" approach that will allow the students to participate in a total of six, 50 minute hands-on master classes throughout the day! The goal of each clinician is to give your students 2-3 things that they can apply instantlyto their current playing situations.
---
STUDENT CLINICS & PERFORMANCE SESSIONS:
Bill Bachman – Tenor drumming and hand technique
Pedro Fernandez – Concert snare drum technique and repertoire
Jon Crabiel – Marimba/Vibe technique and college preparation
Ian Shepherd – Drumset technique and studio drumming
Chelsea Levine – Marching cymbal technique
High Octane Drumline – What it takes to drum in the NBA and game-time performance techniques
Ed Gaus and Bongo Boy Music – World percussion/hand drumming
Each student will sign up for one of 4 tracks for the day and participate in the classes in that track. There will be 3 in the morning, and 3 in the afternoon. Our goal is to provide as much info to the students as we can and have them walk away with tons of great knowledge from each class that they can instantly apply to their current playing situations.
---
DIRECTOR'S CLINIC
Kevin Shah
Sound Design and Show Production 
Kevin will be presenting a 2 hour presentation to percussion ensemble directors focusing on successful sound design and show programming/production.
---
INDIVIDUAL AND ENSEMBLE COMPETITION
Categories: Snare Drum, Tenors, Keyboard, Timpani, and Bass Drum Ensemble.​
I&E Participation fees:
Solo: $12
Ensemble: $8 per member
Registration: https://tinyurl.com/yaqum78x
I&E Participant Rules and Guidelines
REGISTRATION DEADLINE: Monday, December 3rd
Questions about the clinic day or I&E competition can be directed to events@indianapercussion.org