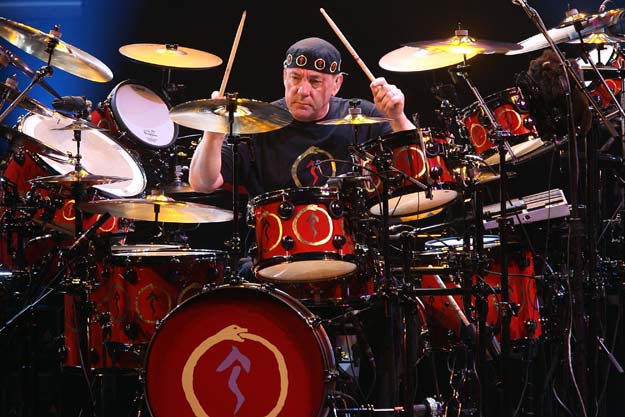 At the Indiana Percussion Association State Finals several weeks ago I held a simple trivia contest. Brave volunteers that visited the Allman Drums booth were asked to draw the name of a band or musician from a drum. If they could name a drummer for the group they received a piece of candy. It was for fun, but I hoped it would encourage young percussionists to know history.
A crucial part of the development of young percussionists and drummers is a knowledge and respect for history. The music you play today is built upon decades and centuries of previous musicians. For instance, Neal Peart, legendary drummer for Rush, was influenced by Keith Moon of The Who. Keith Moon's flamboyant style was inspired by the showmanship of big band drummers Gene Krupa and Buddy Rich. Krupa and Rich were both innovators in the relatively new style of jazz, and drew upon the early work of Warren 'Baby' Dodds and Zutty Singleton. Considering this context, it's easy to see the roots of Peart's creativity, technical mastery, and showmanship.
Steve Houghton, Professor of Music (Percussion and Jazz) at the Jacobs School of Music at Indiana University, has a quote on the door to his office that demonstrates the importance of history. Tony Williams, legendary jazz drummer once said:
"When I was a kid, for about two years I played like Max Roach. Max is my favorite drummer. Art Blakey was my first drum idol, but Max was the biggest. So I would buy every record I could with Max on it and then I would play exactly what was on the record, solos and everything. I also did that with Art Blakey, Philly Joe Jones, Jimmy Cobb, Roy Haynes, and all of the drummers I admired. I would even tune my drums just like they were on the record.

People try to get into drums today, and after a year, they're working on their own style. You must first spend a long time doing everything that the great drummers do. Then you can understand what it means. Not only do you learn how to play something, but you also learn why it was played. That's the value of playing like someone. You can't just learn a lick; you've got to learn where it came from, what caused the drummer to play that way, and a number of things. Drumming is like an evolutionary pattern."
Mr. Williams was correct: great musicians respect, understand, and study the history of music. Take time to listen to music, both live and recorded, and be sure to read about it!
About the Author
Glen Allman works part-time at Chops Percussion, mostly on Saturdays. He also builds and restores drums. You can learn more about Allman Drums at www.allmandrums.com.