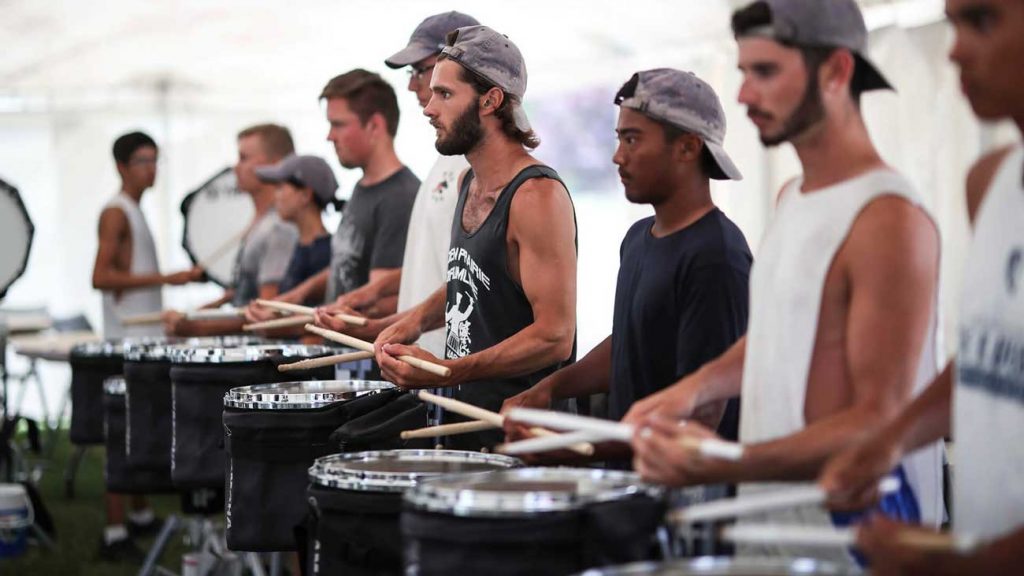 We're well into summer and it's time for drum corps to hit the road!  For those who aren't familiar, drum corps (or drum and bugle corps) are marching ensembles (brass, percussion, and color guard) that travel throughout the country each summer rehearsing and performing in different cities at competitions. If you're unfamiliar with the activity, clickHEREto find out more.
There are many opportunities to see drum corps in competition in Indiana and surrounding states. Here is a partial list of events.
Be sure to check out the event information at www.dci.org
June 24th– Michigan City, IN
Colt Cadets
Pioneer
Genesis
Colts
Blue Stars
The Cadets
Boston Crusaders
The Cavaliers
June 25th– Mason, OH (Cincinnati area)
Cincinnati Tradition
Pioneer
Madison Scouts
Crossmen
Phantom Regiment
Bluecoats
Boston Crusaders
Carolina Crown
June 27th– Evansville, IN
Music City
Genesis
Colts
Blue Stars
Phantom Regiment
The Cavaliers
June 29th– Muncie, IN
Genesis
Colts
Crossmen
Madison Scouts
Blue Stars
Phantom Regiment
The Cavaliers
Carolina Crown
June 30th– Lisle, IL (Chicago area)
Colt Cadets
Pioneer
Genesis
Colts
Crossmen
Blue Stars
Phantom Regiment
The Cavaliers
July 6th– Rockford, IL (Chicago area)
Legends
Shadow
Pioneer
Colts
Madison Scouts
Crossmen
The Cavaliers
Phantom Regiment
July 11th– Zionsville, IN
Legends
Madison Scouts
Phantom Regiment
The Cavaliers
Blue Devils
July 14th– Alexandria, KY (Cincinnati area)
The Diplomats
Cincinnati Tradition
Music City
Jersey Surf
Spirit of Atlanta
Bluecoats
Carolina Crown
July 14h– Dekalb, IL
Pioneer
Colts
Crossmen
Blue Stars
Madison Scouts
The Cavaliers
Blue Devils
Phantom Regiment
July 15h– St. Louis, MO
Colt Cadets
Shadow
Legands
Music city
Pioneer
Jersey Surf
Genesis
Spirit of Atlanta
Colts
Mandarins
Corssmen
Madison Scouts
Blue Stars
The Cadets
Phantom Regiment
The Cavaliers
Boston Crusaders
Bluecoats
Carolina Crown
Blue Devils
July 27th– Murfreesboro, TN
Boston Crusaders
The Cadets
Blue Devils
Blue Knights
Bluecoats
Carolina Crown
Music City
Santa Clara Vanguard
The Cavaliers
July 31st– Plymouth, IN
Jubal (Netherlands)
Impulse
Raiders
Guardians
Southwind
7thRegiment
Spartans
Legends
August 6th– Massillon OH (Canton area)
Blue Knights
Bluecoats
Boston Crusaders
Carolina Crown
The Cavaliers
Crossmen
Mandarins
Rhythm IN BLUE
Rogues Hollow Regiment
Santa Clara Vanguard
The season will conclude in Indiana during the week of August 6th. Open Class corps will compete in Michigan City on August 7 and 8, then look for us in the Vic Firth booth at the World Class championships at Lucas Oil Stadium in Indianapolis August 9-11.
The drum corps season is a great chance to see the most exciting and innovative performances in the marching arts. With plenty of shows in and around Indiana, there's no reason to miss the action!