Band directors and percussion directors are always looking for budget friendly accessories that hold up to the constant use that happens in middle school and high school programs. The new Overture by Black Swamp Percussion instrument line is a start of that vision from one of the most reputable companies in concert percussion instruments. Long known for their top quality instruments such as snare drums, tambourine, triangles and more, Black Swamp recently released a new series of instrument that will bridge the gap and give their same great quality instruments at a budget friendly price. For now, the Overture series includes a tambourine, castanet machine and woodblocks.
We take a look in todays blog, what each instrument has to offer from this new series.
TDOV – Tambourine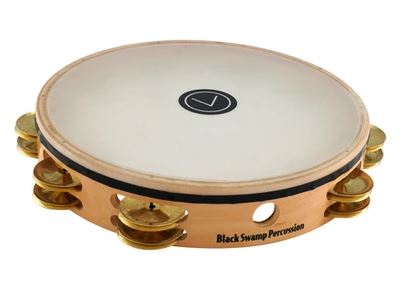 The Overture Series Tambourine (TDOV) has actually been in the Black Swamp line-up for a while and has quickly become a favorite among middle school directors.  The textured brass jingles give this tambourine a bright sound and combined with the Remo Renaissance Head that gives a pure tone when struck. The increased durability of the synthetic head also allows for the purchaser to know they are getting a tambourine with durability and longevity of use. The ply shell and double-row of jingles allow this tambourine to be played in a professional manner and get a professional sound at an economical price. Includes a protective bag and wax.
OV-CM – Castanet Machine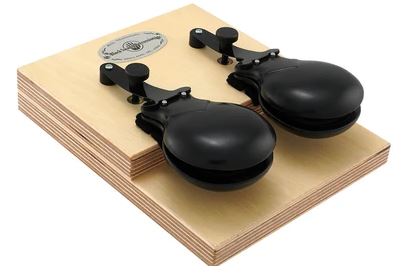 The Overture Series Castanet Machine is a new model of castanets from Black Swamp and adds a dedicated castanet machine to their already high quality professional castanet line-up. The fiber castanets used give excellent projection through an ensemble without being overbearing or to high in pitch. User friendly design with no elastic or rope to control the tension on the castanets. The tension adjustment is done with a knob and is the same design that is used on the Black Swamp pro level castanets and castanet machine. The base of the castanet machine is made of ply wood with a threaded insert for attaching to a cymbal stand or rubber feet if you prefer to place it on a trap table when played.
OV-WB – Woodblocks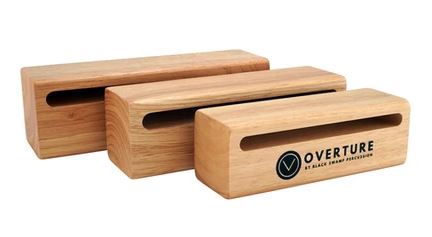 The Overture Series Woodblocks will be a great addition to any band room with their excellent sound and focused tone. Unlike the other Black Swamp woodblocks that are made of maple, the Overture series woodblocks are made from rubberwood. These woodblocks have the same great design with strict standards on the lumber that is used and designed in a way to give the perfect sweet spot when played. Available in 3 different sizes, you can rest assured that you can find the sound you are looking for.
We are proud to carry these quality products in store and online. If you have any questions or looking for some other suggestions on products from Black Swamp Percussion be sure to contact us by phone or email.
chops@chopspercussion.com
(317) 813-2070